Integrated Reporting <IR> Training Course

Foundational training partner
CSRWorks is a Foundational Training Partner of the Value Reporting Foundation (VRF) and provides certified Integrated Reporting training courses internationally for board directors, corporate reporting practitioners and ESG professionals.
Training License: Singapore, Indonesia, Malaysia, Thailand, Philippines, Vietnam, Cambodia, Brunei, India, Sri Lanka, Bangladesh, the UAE, and Japan
Integrated Reporting < IR > Training Courses
As the VRF's Foundational Training Partner, CSRWorks International develops and provides high quality practical training to assist businesses in the smooth adoption of integrated reporting based on the International <IR>  Framework. We offer both face-to-face training as well as virtual training.
CSRWorks uses its extensive experience in reporting and training to support the development of skills, knowledge and competencies required for implementing Integrated Reporting. Our VRF-approved training is delivered in a highly engaging, interactive and creative format using practical case studies, best practices and exercises.
CSRWorks actively promotes integrated thinking, value creation and integrated reporting through advisory, awards and summits.
To learn more about our upcoming Integrated Reporting training courses, please write to training@csrworks.com.
Participants who successfully complete our Approved Training will receive a Certificate of Completion directly from the Value Reporting Foundation, UK.
Past attendees have found our <IR> training course practical and useful. See what our previous participants say in the testimonials section.
CSRWorks International is a trusted name in sustainability consulting, training and thought leadership. A foremost champion of corporate reporting, CSRWorks is the founder of Asia Sustainability Reporting Awards (ASRA), Asia Integrated Reporting Awards (AIRA) and the Asia Sustainability Reporting Summit. 
Our international team of consultants has produced more than 250 reports . Our integrated reporting training is conducted by VRF-approved trainers.
We believe in forging relationships for life. We offer free 1-hour post training mentoring to make sure you're on the right track. Our training also features guest sharing sessions by sustainability experts and practitioners about their experiences, challenges and tricks of the trade.
To register, write to training@csrworks.com

WANT TO ORGANISE IN-HOUSE TRAINING FOR YOUR REPORTING TEAM?
CSRWorks offers in-house Training fully customised to your organisation and sector. In-house Training for your team is the best way to power ahead integrated thinking and integrated reporting in your organisation. We provide both face-to-face training as well as remotely conducted virtual training.
All attendees who successfully complete the training will get a Certificate of Completion directly from the VRF.
To learn more , email to training@csrworks.com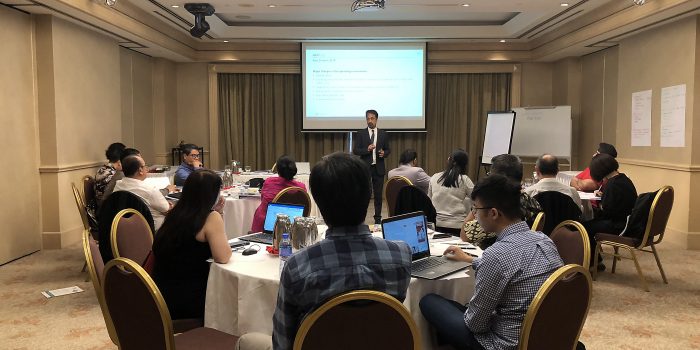 VRF Approved < IR > Training Courses
CSRWorks offers the following Integrated Reporting Training Courses approved by the Value Reporting Foundation, UK:
Practitioner Level training is designed to provide participants with the knowledge and tools required to implement Integrated Reporting in an organisation.
Learning Outcomes
Upon successfully completing the Practitioner Level Training, participants will be able to:
Demonstrate the Introductory level learning outcomes.
Apply the fundamental concepts of value creation, the capitals and the value creation process to an organization.
Participate effectively as part of a team preparing an integrated report.
Participate effectively as part of a team planning and coordinating the implementation of Integrated Reporting, including integrated thinking, within an organization.
Who Should Attend?
The Practitioner level Training is most suitable for individuals who are directly involved in Integrated Reporting including the preparation of integrated reports. Target audience includes the following:
Chief Financial Officers, Financial Controllers, Sustainability Managers and Corporate Communications Managers tasked with the preparation of sustainability / annual / integrated reports, Finance Managers, Internal Auditors, EHS Managers, HR Managers, company executives who are part of a company's sustainability reporting project team, and reporting consultants.
CSRWorks can develop and provide IIRC Approved Training Courses contextualised to the client organisation. Please write to training@csrworks.com to learn more.
Integrated Reporting Training Course –
Practitioner Level (Virtual)
It was a great 3-day learning experience with practical approach – Allan A. Blasco, Senior ESH Performance, First Gen Corporation
It was a great, comprehensive and hands-on exercise that help put all the theory into practice – Noelle Anne G. Bautista, Corporate Sustainability, First Philippine Holdings



Excellent! After attending the training course, I now have an excellent idea of how Integrated Reporting should be conveyed. – Low Teng Lum, Director, Boilermech Holdings
Excellent! Well designed course with practical and actual case studies provided. – Colin Legarde Hubo, Executive Director, UA&P, Center for Social Responsibility
The <IR> training course provided big learnings everyday and excellent group dynamics. It was money well spent! Looking forward to more. – Joshua Rayan, CEO, Joshua Rayan Communications
Great course! The constant dialogue, interaction, activities and case studies made the <IR> course engaging and useful. – Tang Lien, Managing Director, Nova Fusion
CSRWorks International Pte Ltd
237 Alexandra Road
#06-06 The Alexcier
Singapore 159929
©Copyright 2020 – All Rights Reserved – CSRWorks International