GRI Standards Certified Training Course
SINGAPORE | MALAYSIA | PHILIPPINES
As the Global Reporting Initiative's (GRI) Certified Training Partner, CSRWorks International conducts the official GRI Standards training course in Singapore, Malaysia and the Philippines. We offer face-to-face as well as virtual GRI-certified training programme on the GRI Standards. The course includes real-life local and regional case studies and GRI-Certified training material.
The GRI Standards are the most widely used global standards for sustainability reporting. They feature a modular, interrelated structure, and represent the global best practice for reporting on a range of economic, environmental and social impacts.
The Certified Training Course equips you with the necessary knowledge and skills to produce the best possible sustainability report using the GRI Standards.
Whether you are an experienced sustainability reporter or planning your first report, the Certified GRI Standards Course prepares you for a smooth implementation of the reporting process within your organisation. The course is also suitable for ESG analysts and anyone interested in assessing company performance through sustainability reports.
PAST ATTENDEES
See the past attendees of our training courses here.
The GRI Standards Certified Course is conducted by experienced GRI-Certified trainers. Upon successful completion of the training course, participants receive a certificate directly from the Global Reporting Initiative (GRI). After which, our participants who wish to advance their skills are eligible for a 20% discount on the GRI Standards Exam fee. 
In addition to class-room style training in Singapore, Malaysia and the Philippines, we also offer virtual GRI Standards Certified Training Course, facilitated live by our expert trainers. Our virtual training courses are delivered online through an engaging and interactive training platform to maximise learning experience. Participants get a certificate directly from GRI upon completing the course.
In-house Virtual Training
An in-house virtual training is a great idea if you want to train the entire team which is involved in preparing and approving sustainability reports. Get in touch for more information about our in-house GRI Standards training. 
The virtual course schedule is regularly updated on this page.  If you are interested in knowing more about our virtual course, please contact us by writing to training@csrworks.com
CSRWorks is a trusted name in sustainability services focused on consulting, training and thought leadership with over 15 years of track record. A foremost champion of sustainability reporting, CSRWorks is the founder of Asia Sustainability Reporting Awards and the Asia Sustainability Reporting Summit. 
We believe in forging relationships for life. We offer 1 hour consultation after the training to make sure you're on the right track, absolutely free of charge. Our training also features guest sharing sessions by sustainability experts and practitioners about their experiences, challenges and tricks of the trade.
To register, write to training@csrworks.com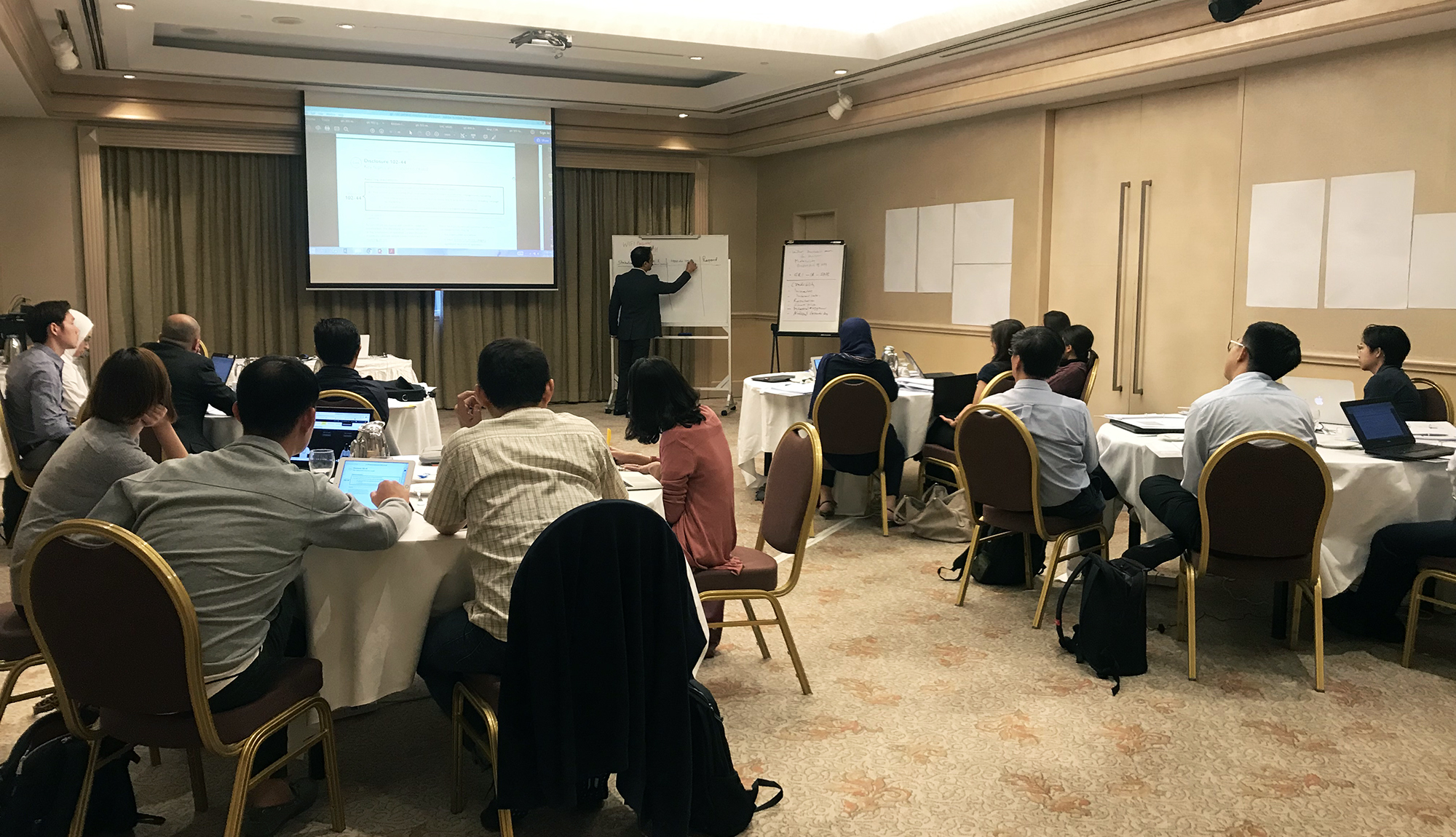 IN-HOUSE TRAINING
CSRWorks can deliver GRI Standards Certified Training Course that is customised to your organisation and the sector. In-house training for your team is the best way to build organisational capability for sustainability reporting.
Our in-house training is available both as face-to-face training as well as virtual training delivered remotely.
Moreover, all attendees get a Certificate of Completion directly from GRI.
For more information, please email to training@csrworks.com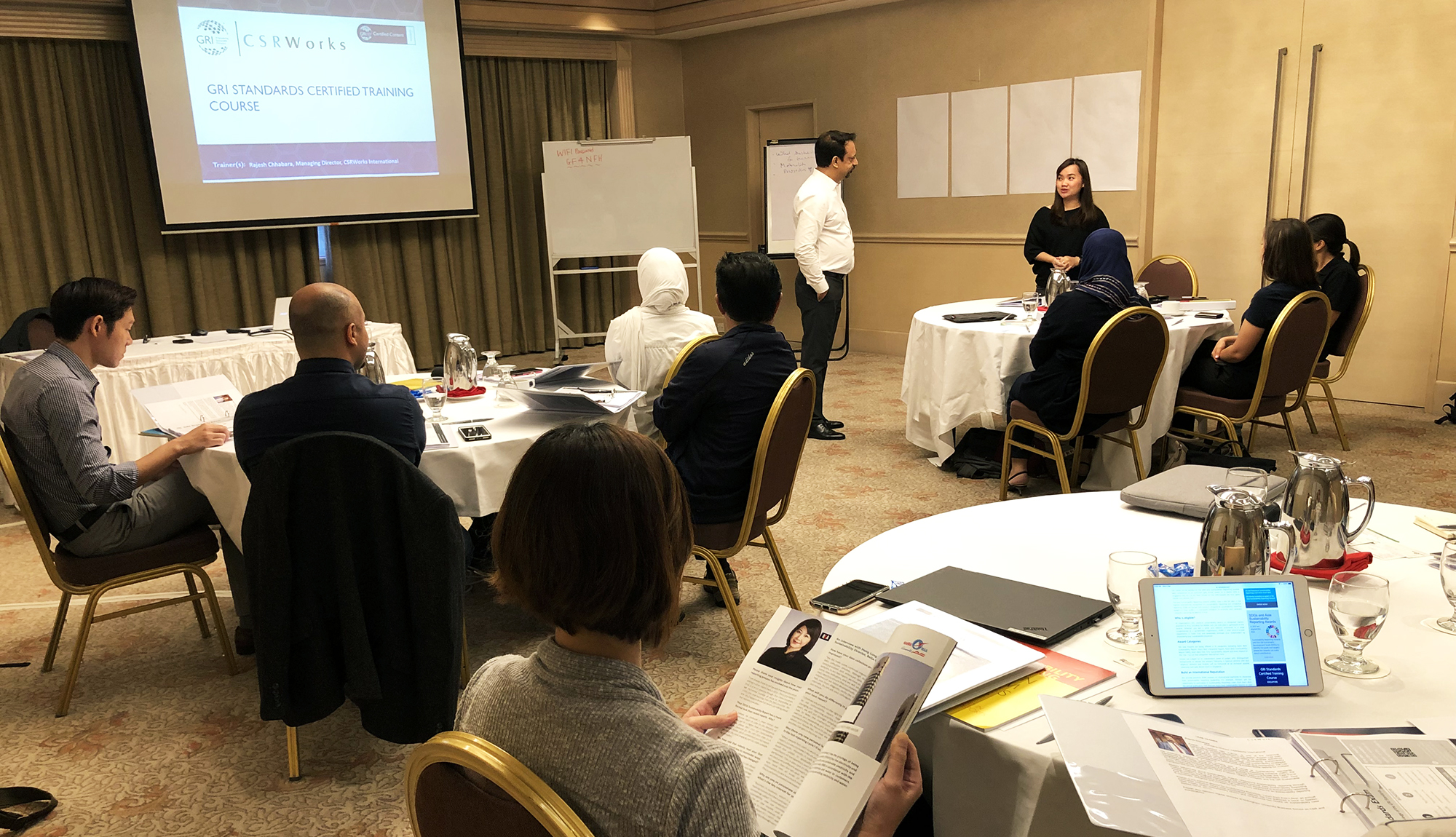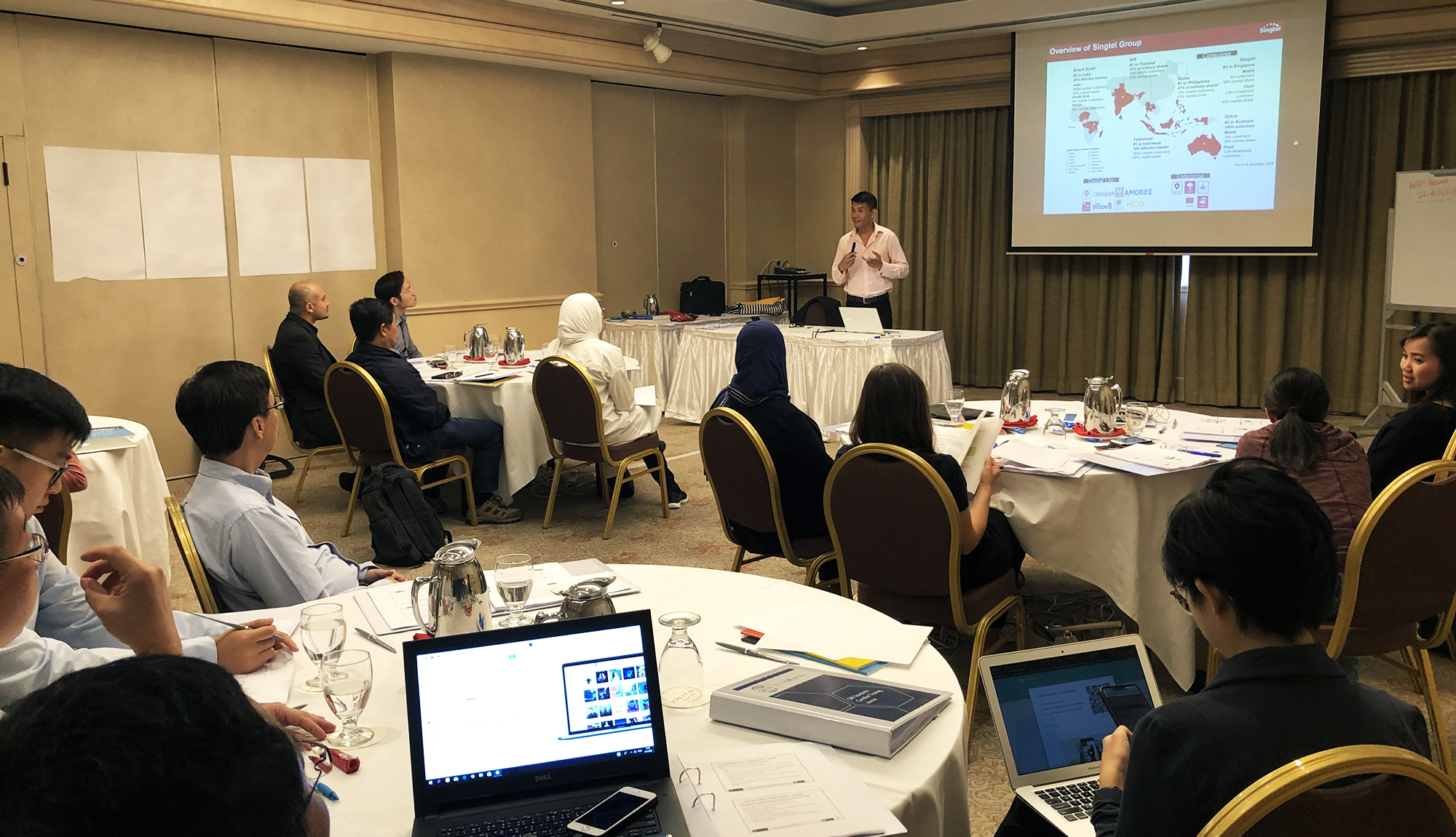 Due to the COVID-19 pandemic measures,
face-to-face training courses will be available only selectively.
An extremely useful course with a systematic and structured approach to developing a factual GRI based sustainability report. – Elaine Ang, Head of Investor Relations, China Aviation Oil (Singapore)
The trainer is knowledgeable and able to simplify and summarise the steps, milestones and common mistakes so that we have a good understanding of how to navigate around the GRI Standards. Excellent! – Pek Swan Layanto, Head of Investor Relations, Fast OffShore Supply 
I'm a sustainability scientist with over 9 years of experience in environmental consulting and research. This is the best training on sustainability reporting I have ever attended. Rajesh, the lecturer, is one of the most experienced professionals in this discipline. He is very knowledgeable and generous in sharing his perspectives. The course is well designed with group work and insightful case studies. I would highly recommend this training to anyone who is pursuing a career in the field of sustainability. – Dr. Huijuan Wu, Research Fellow, Lee Kuan Yew School of Public Policy
Exceptional course! The trainer has deep knowledge of the subject. – Ng Xiuyi, Investor Relations, Manulife US Real Estate Management Pte Ltd. 
The course was conducted in a simplified manner where Rajesh had focused more on the important topics and provided multiple practical examples. This provided a clearer understanding of the GRI Standards.
– Kaho Miyamoto, Rakuten, Inc. 
Rajesh is an experienced and knowledgeable trainer. The course provides excellent use of case studies and role play examples. – Chong Beng Leng Fred, Manager, Temasek Polytechnic
CSRWorks International Pte Ltd
237 Alexandra Road
#06-06 The Alexcier
Singapore 159929
©Copyright 2020 – All Rights Reserved – CSRWorks International