An interview with Tata Power Co Ltd Chief- Corporate Communications and Sustainability, Shalini Singh
Asia's Top Sustainability Superwoman 2019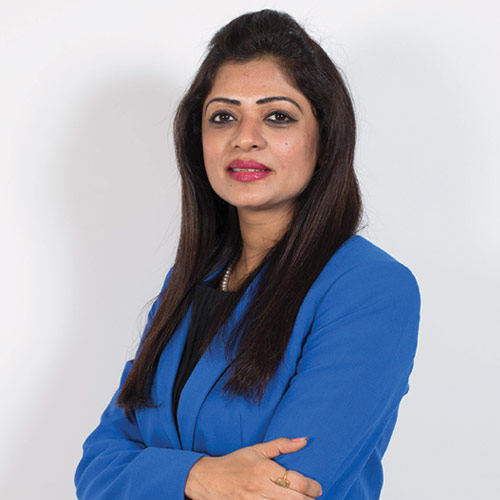 "For me, every woman is a Superwoman. Irrespective of whether she is a working woman or home maker, the contribution of woman is extremely important in every sphere of life. "
1) What have been your top achievements in sustainability so far?
Being a passionate advocate of social and green causes, I have led decarbonisation and circular economy initiatives at Tata Power since 2004. Also this has enabled business integration of 10 prioritised UN-Sustainable Development Goals making Tata Power a thought leader in the Sustainability space.
I was instrumental in launching and spearheading award-winning social brand properties to drive conservation such as Club-Enerji, Act for Mahseer and Greenolution. Club-Enerji, in the past decade has established a network of 533 schools in 14 cities where 7.2lakh school children have sensitised over 23.8million citizens in India to save 25MillionUnits till date leading to mitigation of over 25000tonnes of CO2. Act for Mahseer, the biodiversity conservation effort for endangered species of freshwater Mahseer has successfully released 10million fingerlings bred in captivity and Greenolution is an employee participation initiative which has mobilised and recognised over 2300 Green-Heroes for their achievements in resource recycling, reuse and optimization.
In community development space, scalability and replication of CSR initiatives has positively impacted 2.24million lives. The efforts made to champion women empowerment through the flagship micro-enterprise initiative called Dhaaga helped transform lives of 1050 women who are suppliers to multiple brands with an order value exceeding 0.5 Million INR till. Also, vocational training more than 1400+ women(Abha Members) has resulted in augmenting their income. In addition, I was spearheading Arpan-Employee volunteering initiative which clocked 1.5lakh volunteering hours by employees and family members in last 3 years. In fact, the per employee volunteering hours in 2018-19 was 13 hours annually which is 2nd to Global Benchmark of 14 hours by Dell. Also the purpose of professional life includes bringing diversity and sustainability issues to the fore at Board level. I am privileged that I mentor young talent as part of leadership building within the organization.
Beyond Tata Power, I am actively enageged with UNGC, NITI Aayog-Women Entrepreneurship Program, National CSR Award Jury panel-ICSI. At the Tata Group level, I am actively collaborating within Tata Network Forum for sharing best practices with other companies and is a faculty for training programs at the Tata Group level.
I have represented causes like resource conservation, women empowerment and business responsibility at various national and international forums such as Global Sustainable Electricity Partnership, United Nations Global Compact, TEDx-IIMA, NITI Aayog, ESG Matters-Asia Panel Series(Bank of Merrill Lynch) and CSR Live Week.
Many of the initiatives incubated by me at Tata Power now have scaled to have a national level impact. 2017 Mini Clubs under Club-Enerji now operate independently across India though a network of energy champions and ambassadors. Tata Power Skill Development Institute is meeting the emerging skill requirements of the sector by amplifying the outreach to other organizations and Government agencies in skilling youth through a Hub and Spoke Model while also leveraging E-learning.
My efforts have been instrumental in Tata Power strategic partnerships with WBCSD, ICSI, IABC, ABCI, UNDP, NABARD, Government agencies, Civil Society and Corporate in the themes of Sustainability, CSR and Communication. Also, engagement with academia has benefited students of many colleges including London School of Economics, Berkeley University, IIM Ahmedabad and IIM Indore. The students have been involved in creating solutions to address sustainability and social issues in the larger interest of stakeholders.
2) What challenges have you faced along the way and how have you overcome them?
Traditionally, power sector workforce requirements across the country has been a story of men being part of the workforce at shopfloor level. The paradigm has not been challenged so far due to the complexities involved in the nature of work as claimed by some practitioners and experts of this domain from safety point of view. Tata Power Skill Development Institute is another case of national building. These centre of excellence was dedicated to the nation across Maharashtra, Gujarat and Jharkhand with 5 institutes established in 2015 with an objective of skilling youth for meeting the power sector requirements with focus on upcoming business avenues including rooftop solar and various industrial trades. One of the observations was hardly finding girls/women being part of the skilling courses. However, the team was motivated to challenge this notion and bring about a shift in the paradigm of including women for such training. Personally, I felt that women are competent to work in all spheres of life. If women can make it to the space, then why not power sector. The team realized the objective and this led to launch of Abha- flagship initiative to empower women through skilling. Today Tata Power Skill Development Institute has been able to skill 300 women on various power sector skills including soft skills like communication, customer orientation and safety. Further these women are now successfully placed in various jobs and working shoulder to shoulder with men counterparts and earning the due respect. Some of the employers were initially hesitant but post their performance, these employers have reposed their faith in them and look forward to next batch of Abha Training at TPSDI. The huge personal learning for me was to challenge the paradigm and convince the team about the possibilities and being a game changer rather than run of the mill kind of skilling. Being a differentiator in skill sector is the key and Tata Power Skill Development Institute has taken a big leap in this direction..
3) What are the biggest challenges and opportunities you face today as a sustainability leader?
At Tata Power, the theme of Sustainability has been at the epicentre of business growth and continuity. Nevertheless, as a Sustainability Leader, for me, it was important to learn the impacts of sustainability across the business value chain. Subsequently, it was quite a learning experience to engage with the Business Leaders internally and understand their view point and also help them get onboard on various Sustainability aspects which are impacting business or would impact business in the long run for which actions were desired immediately. This exercise led to Business alignment to the UN SDG Goals relevant in Tata Power and its business verticals context across the organization. Also the fact that renewables as an opportunity was a case study which business leaders found to be making both business sense and contributed to Climate Change Actions was a great opportunity besides the various business offering which Tata Power as a power company could offer to its customers. This ranged from Electric Vehicle Charging Infrastructure, Rooftop Solar Solutions which have immediate return on investment for the consumer, Solar/Hybrid Micro Grids for enabling remote communities access reliable and cost competitive power to understanding and education the Millennials about the Demand and Supply Side Management and involving them in Energy and Water Conservation efforts across Schools of the country. Subsequently, the external stakeholders had to be taken onboard to reflect the commitment and actions being taken. Hence active engagement with thought leaders at national and international forums like Global Sustainable Electricity Partnership, United Nations Global Compact, TEDx-IIMA, NITI Aayog, ESG Matters-Asia Panel Series(Bank of Merrill Lynch) and CSR Live Week was an effort to get stakeholders to understand the viewpoints of power sector and its bid to adapt and practice Climate Change Actions and alignment to UN SDGs as a case study for learning and sharing best practices of Tata Power.
4) What further action on sustainability do you have planned for the future?
Water is the most strained resource on earth today. Hence action is desired both by businesses and communities. The element of managing both demand and supply side through Water Budgeting is the norm which is definitely being looked across by nations. Water intensive cropping being imported is a strategic move for an organization or country. Nevertheless, if we consider world as a global village, we need to come out of such means to address water issues and look broadly at using technology and community participation as the key driver for water management. At Tata Power, we are continuously striving to work on improving specific water consumption levels and water dependencies on natural resources through 3Rs-Reduce, Recycle and Reuse in our business operations. Also, the idea of engaging with local communities in educating them about water conservation and working on participatory ground water and surface water management has been quite a success story which has also stood the test of time through replication to other geographies.
Also, the new norm needs to be "Small is Beautiful". Renewable energy harnessing through solar rooftop solutions, microgrid solutions etc have redefined the norm as it offers solutions without the dependence on large tracks of land, water resources as it used to be the case earlier with big thermal/hydro power stations. While there is a gradual progress, nevertheless the asking rate is being dealt by corporations and Governments as the intent is clear and every stakeholder have come on same page on the matter of such requirements.
5) Can you give any advice to aspiring sustainability superwomen out there?
For me, every woman is a Superwoman. Irrespective of whether she is a working woman or home maker, the contribution of woman is extremely important in every sphere of life. The only lesion which I have learnt and would share is that we need to continuously challenge the limits and norms both at professional and personal front and keep going ahead with positive intent and strong willpower, commitment & high ownership. Be in at board level or community level or home level, we need to consider the problems, work out alternatives and experiment them to arrive at the best results. Accept failures also as they are the key learning of life and respect the fact that all are socially interconnected and hence, we must work on creating pull by the work and value we create within our eco-system. The world would recognise what value we have brought and contributed to the society at large.