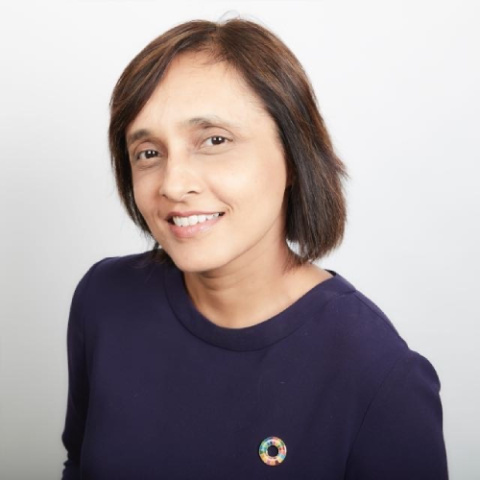 Amita Chaudhury
Group Head of Sustainability,
AIA
Amita Chaudhury has spent 20 years leading Brands, Diversity and Inclusion, Purpose and Sustainability for organisations in Singapore, London and India. She is passionate about delivering business value through making a positive impact for the Planet and the Society.
She is currently the Group Head of Sustainability at AIA, the largest independent publicly listed pan-Asian life insurance group. Prior to this she spent 13 years at Unilever, leading Diversity and Inclusion as Global Director from 2010-2016 , as Head of Sustainable Business for South East Asia and Australasia from 2016-2019 and then was seconded over a year from Unilever to the United Nations Global Compact as senior advisor on sustainability learning. She is the recipient of the award for "Leading women in Sustainability" by the World Business Council of Sustainable Development in 2018.
As the Sustainable Business Director for South East Asia and Australasia, Amita worked with the Unilever SEAA board, markets and category teams to build an integrated agenda for sustainability led business value through brands and business models and reduction in environmental impact focusing on post-consumer waste. During her tenure, Unilever SEAA was awarded the Singapore Apex award for Sustainability. As the Global Diversity and Inclusion Director, her role was to facilitate the development of Gender balance strategy in partnership with the Global Diversity Board chaired by the CEO Paul Polman. The company became a well-recognized leader in Gender balance winning over 30 awards across geographies including the Catalyst Award in 2013 for creating an enabling environment in recruitment, retention and development of women in the workplace.
Amita has also been the recipient of the highest internal recognition at Unilever – the Compass CEO award for her work in this space.
She is the author of the book, "Working mothers, happy kids". She is the associate of higher education academy at City university of London, has an MBA in Marketing and International Management from Indian Institute of Management, Bangalore, India and Honors in Mathematics from University of Delhi, India