S&P Global Corporate Sustainability Assessment (CSA) Training
Organised in collaboration with S&P Global
In collaboration with S&P Global, CSRWorks offers the CSA Training.
Training sessions will be conducted by expert speakers/trainers from S&P Global and S&P Global Ratings.
The CSA Training is aimed at enhancing participants' knowledge and understanding of the Corporate Sustainability Assessment (CSA) criteria, methodology and scoring.
The CSA is an annual evaluation of companies' sustainability practices. Results from the CSA, the S&P Global ESG Scores, are a key factor to select eligible companies into S&P Global ESG Indices, incluing the world famous Dow Jones Sustainability Indices, or the S&P Global LargeMidCap ESG Index. The ESG scores and (if applicable) also the underlying data-points are made available to capital market participants via S&P Globals Capital IQ Pro Platform and to the public via the S&P Global EGS Scores webpage.
Investors are increasingly seeking ESG information on companies, and S&P Global Clients representing over US $26 trillion in assets under management now integrate S&P Global ESG scores into their investment decision-making processes. More than 65% of CSA participants decided to share a larger amount of underlying datapoints submitted in the CSA to leverage S&P Global's platforms to communicate to the wider capital market.
Currently, approximately 11,00 global companies are assessed annually, in 2022 over 2,200 companies participated actively in the assessment. Each participating company is provided with ESG Scores at the question-, criteria-, dimension- and total-level, with detailed benchmarking opportunities against their global industry peers. Participation in the CSA and related benchmarking tools are provided free of charge to invited companies.
There are two training courses:
1. DJSI Fundamentals training for beginners (one day)
2. DJSI Expert training for advance level users (one day)
The CSA Training Course aims to introduce the participants to CSA process and methodology as well as the use of the CSA results by capital markets. This training is most suitable for those companies which are new to responding to the CSA questionnaire.
This course is most suitable for senior managers in the area of sustainability, ESG analysis, sustainability reporting, investor relations, GHG emissions/climate change, environmental management, human resources, sustainable finance and investment and corporate governance.
See our past attendees here
CSA Training
Aimed at beginners or the first-time responders to the CSA, this workshop introduces participants to the fundamentals of the Corporate Sustainability Assessment to empower their CSA journey.
Training will cover
:
Introduction to the S&P Global CSA
Materiality
CSA Score Calculation
CSA Platform Demo
Use of CSA Results and benefits of participation
Q&A
DJSI Consulting Services
Need assistance with completing your DJSI Corporate Sustainability Assessment? We can help.
Learn more about our DJSI/CSA consulting services here.
Or, contact us by writing to consulting@csrworks.com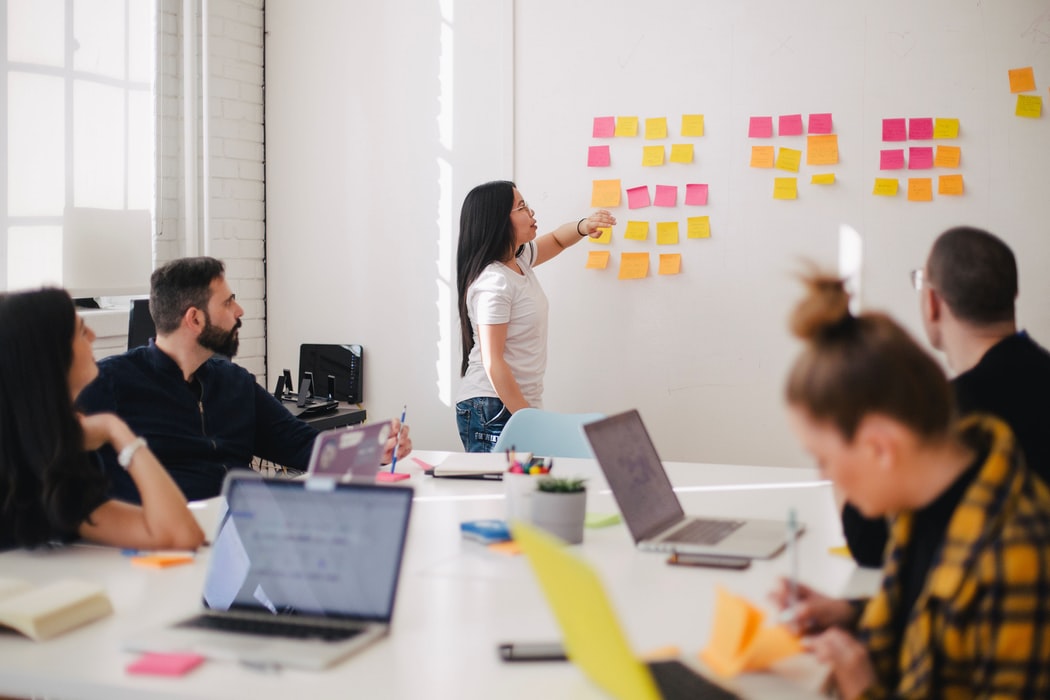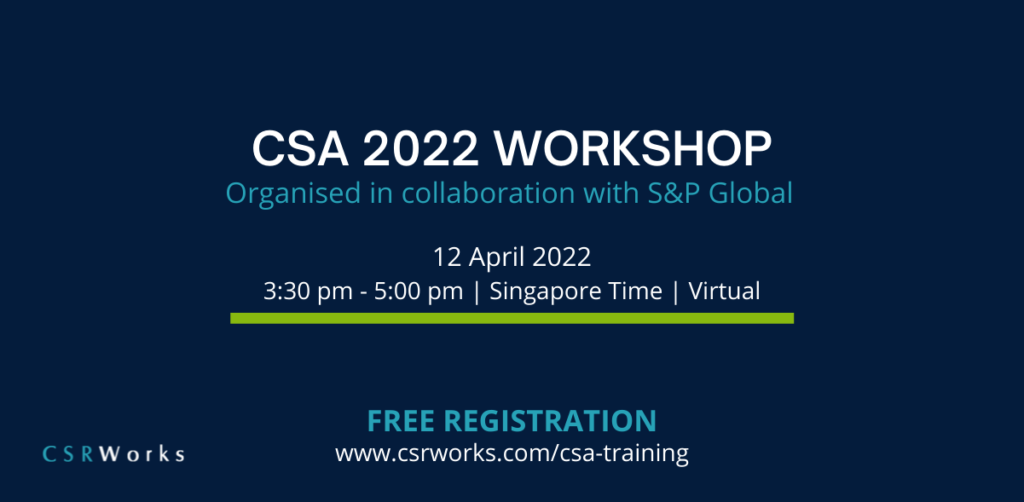 Date: 12 April 2022
Time: 3:30 p.m. – 5:00 p.m. (in SGT)
Venue: Virtual
PRIOR REGISTRATION REQUIRED
The workshop is FREE. However, due to limited places, registration is restricted to only one participant per organisation.
Virtual CSA / DJSI Fundamentals Training
Malaysia / Indonesia / Philippines
Dates: 23 March 2020 (Concluded)

Time: 2:00 p.m. – 4:00 p.m.

(Singapore time)
Speakers: Experts from SAM/DJSI, now a part of S&P Global
PRIOR REGISTRATION REQUIRED
This workshop is exclusively for companies in Malaysia, Indonesia and the Philippines which have been invited to participate in the 2020 DJSI / Corporate Sustainability Assessment.
The workshop is FREE. However, due to limited places, registration is restricted to only one participant per organisation.
FEATURING SPEAKERS FROM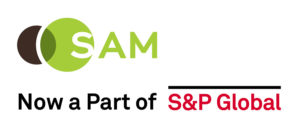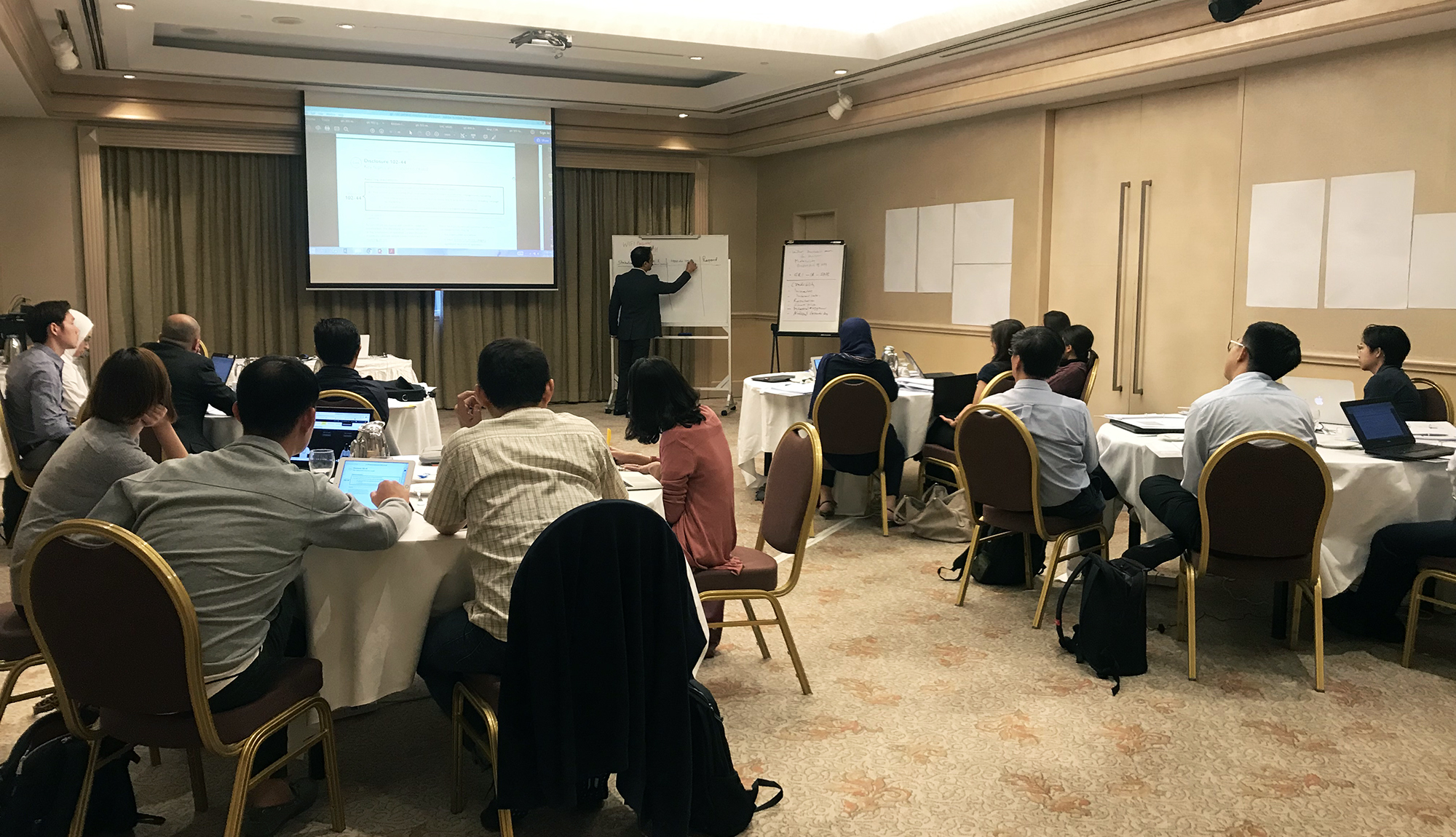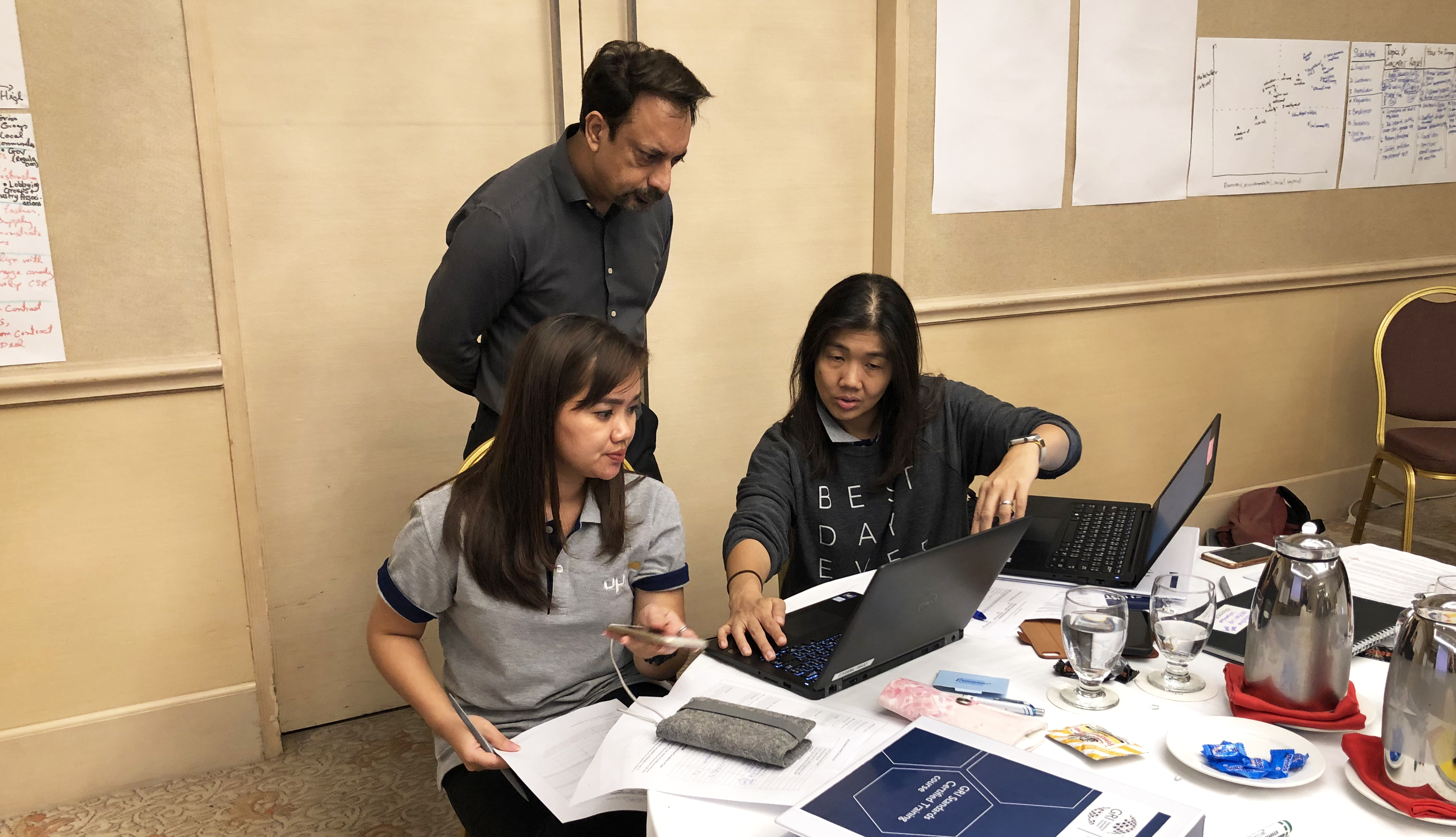 21 - 22 OCTOBER, singapore
04 - 05 december, singapore
Early Bird tickets available till: 06 November 2019
Registrations close on: 20 November 2019
An extremely useful course with a systematic and structured approach to developing a factual GRI based sustainability report. – Elaine Ang, Head of Investor Relations, China Aviation Oil (Singapore)
The trainer is knowledgeable and able to simplify and summarise the steps, milestones and common mistakes so that we have a good understanding of how to navigate around the GRI Standards. Excellent! – Pek Swan Layanto, Head of Investor Relations, Fast OffShore Supply 
I'm a sustainability scientist with over 9 years of experience in environmental consulting and research. This is the best training on sustainability reporting I have ever attended. Rajesh, the lecturer, is one of the most experienced professionals in this discipline. He is very knowledgeable and generous in sharing his perspectives. The course is well designed with group work and insightful case studies. I would highly recommend this training to anyone who is pursuing a career in the field of sustainability. – Dr. Huijuan Wu, Research Fellow, Lee Kuan Yew School of Public Policy
Exceptional course! The trainer has deep knowledge of the subject. – Ng Xiuyi, Investor Relations, Manulife US Real Estate Management Pte Ltd. 
The course was conducted in a simplified manner where Rajesh had focused more on the important topics and provided multiple practical examples. This provided a clearer understanding of the GRI Standards.
– Kaho Miyamoto, Rakuten, Inc. 
Rajesh is an experienced and knowledgeable trainer. The course provides excellent use of case studies and role play examples. – Chong Beng Leng Fred, Manager, Temasek Polytechnic
©Copyright 2020 – All Rights Reserved – CSRWorks International