Asia Sustainability Reporting Awards 2015 Winners
Hong Kong's Hang Lung Properties clinches top award
India's Birla Carbon wins multiple awards
Winners of the Asia Sustainability Reporting Awards 2015 with the Guest of Honour Scott Wightman (British High Commissioner Singapore), Rajesh Chhabara (Managing Director of CSRWorks International) and Awards Guests Mr. David Vincent (Director, South East Asia Climate Change & Energy Network for the British High Commission), Mr. Christopher Ang (Executive Director of Global Compact Network Singapore) and Ms. Brigitte Holtschneider (Executive Director of British Chamber of Commerce)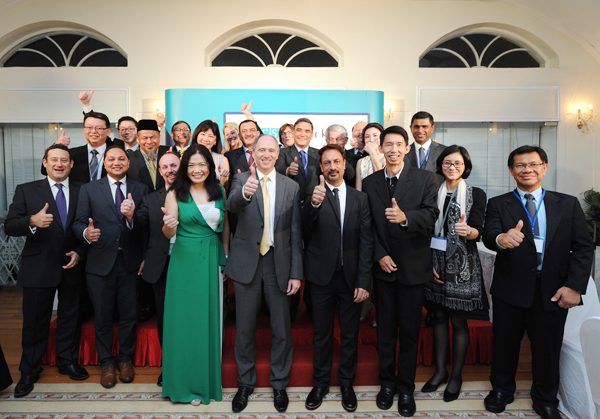 Singapore: Hang Lung Properties, Hong Kong clinched Asia's Sustainability Reporting of the Year Award at the just concluded Asia Sustainability Reporting Awards. Hang Lung also won Asia's Best Sustainability Report Award 2015.
Other top winners included Commercial Bank of Ceylon, Sri Lanka (Asia's Best Integrated Report), Omnicom Media Group MENA, Dubai and ACWA Power, Dubai (Joint winners of Asia's Best First Time Sustainability Report), ADFIAP Philippines (Asia's Best Sustainability Report-SME), Orient Overseas Container Line, Hong Kong (Asia's Best CSR Communication within Annual Report) and Birla Carbon (Asia's Best Online CSR Communication). Birla Carbon also won Asia's Most Transparent Report award.
Winners of the Asia Sustainability Reporting Awards 2015 were announced and felicitated in an exclusive awards ceremony-cum-gala-dinner event in Singapore on 28 January 2016.
The event was attended by dignitaries from diverse fields including business, non-profit, embassies, trade associations, advocacy organisations and academics. A significant number of finalists were present at the event who travelled from different places in Asia to attend the event.
The winners received a specially designed plaque framed by recycled wood. The winner of the top honours, " Asia's Sustainability Report of the Year," received an exclusive golden plaque. All finalists received a certificate printed on FSC certified paper sourced from sustainable forests. In addition, the winners and the finalists will be authorised to use the privileged Asia Sustainability Reporting Awards Icons for branding purpose.
The event was hosted at Eden Hall, the official residence of the British High Commissioner in Singapore. The British High Commissioner His Excellency Scott Wightman was the Guest of Honour.
Please see below the complete listing of winners.