An interview with Ayala Corporation Group Head, Maria Victoria Tan
Asia's Top Sustainability Superwoman 2019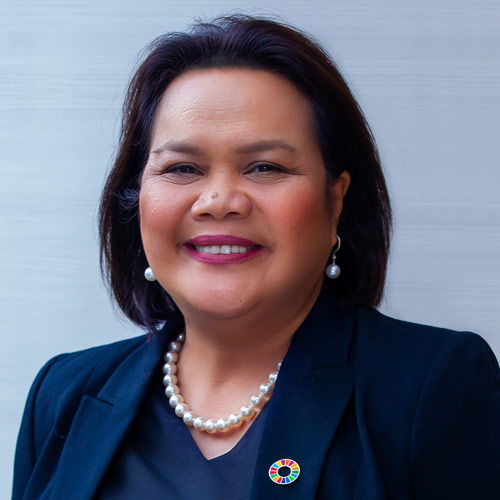 "On the sustainability reporting, we expanded our scope to include all business verticals. We shifted to the integrated reporting adopting the framework of IIRC. "
I joined Ayala Corporation in September 2013 as its Head for Group Risk Management and Sustainability Unit. I report to the Chief Finance, Risk and Sustainability Officer. As the head of group risk management and sustainability, I develop programs and activities that will increase/strengthen risk awareness in the organization and across the group, equip my co-employees so that they will have the confidence to identify, assess and manage risks, communicate to the board about the organization's and the group's risk profile and advocate for the embedding of risks in the day-to-day operations. I also champion the sustainability reporting across the group.
My role continuous to expand as we become more mature in our risk management and sustainability reporting practices. My risk management role continues to expand as it now includes business continuity and groupwide insurance. On the sustainability reporting, we expanded our scope to include all business verticals. We shifted to the integrated reporting adopting the framework of IIRC. I believe that reports should be actionable otherwise there is no value to the report. Hence, we are continuously developing programs across the group that will address our sustainability issues.
What do I consider as my top achievements in sustainability since I joined Ayala in 2013?
Positioned sustainability as an effective collaboration platform where people work together towards a shared vision. It effectively broke down silos and developed synergies across the group.
Transitioned from a stand-alone sustainability reporting to an integrated reporting since 2016 todate. Ayala Corporation is the first conglomerate to adopt the reporting framework. Its major publicly-listed companies such as Ayala Land, Globe Telecom, Bank of the Philippine Island and Manila Water Company also transitioned to reporting framework in the same year. As we mature in our sustainability journey, our sustainability philosophy uses Michael Porter's creation of shared value concept where we look at societal gaps and within our resources and capabilities develop an innovative solutions, and come up with a business model and bring it up to scale. With the advent of the UN SDGs in 2015, we anchored our creation of shared value concept with the 17 goals. And three years into this journey, we launched our Sustainability Blueprint: Bridging the Filipino to 2030, which uses the language of the SDGs.
What challenges have you faced along the way and how have you overcome them?
The Ayala group is very diversified – hence coordination and data collection and analysis are things that we need to improve on. We have a functional council that meets quarterly – for alignment and other coordination activities. We developed a common template for everyone to use.
The Ayala companies are of varying maturity – hence handholding is necessary. Some people think that it is an additional job or an ad hoc job. We need to do roadshows in the last three years to emphasize the importance of sustainability in the business.
What are the biggest challenges and opportunities you face today as a sustainability leader?
For me, challenges and opportunities are one and the same. Hence it will take courage to be able to face these challenges and to explore opportunities.
How to sustain the momentum that we have for Ayala's Sustainability Blueprint. How to engage our stakeholders so we can deliver on the goals.
With the increasing trend in ESG investing or Impact investing, finances will be available to pursue our SDG goals. There is an opportunity as well to improve or to innovate the way we do things. And in the end, we are futureproofing the business.
What further action on sustainability do you have planned for the future?
To continue what we have started and build an organization that will see its completion.
Can you give any advice to aspiring sustainability superwomen out there?
Work with someone who has same values as you are.
Take courage and have faith in yourself.
Lift others up because you are building a community of people who are moving to the right direction.
At the end of the day, rest and be thankful for everything. Don't burn yourself.